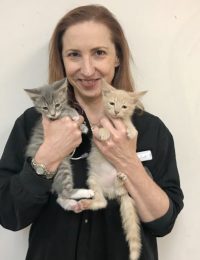 Doctor
Dr. Mouser was born and raised in Houston. She graduated from Texas
A&M Veterinary School in 2002, and she has a degree in psychology from
Texas A&M as well. After graduating from vet school she and her
husband moved to Austin where she has worked since. She has a special
interest in feline medicine and worked in a feline only practice for
several years. Other veterinary interests include dermatology and
geriatric medicine. Outside of work, she enjoys gardening, cooking,
and spending time with her family – her husband David and their fur
children, Kate the dog and Bart & Wallace the cats.